By Varun Satish | Edit PDF
Split PDF online in specific order or periodically
Everyone today is a part of the digital world and we come across a lot of digital documents, mostly PDFs. These PDFs may sometime be a collection of information from which we might need only a specific few. Or sometimes we might need to separate the pages to create files with a very specific set of data. E.g, a business quote with pricing, business data, terms and conditions, etc. You might want to split the pricing, the business data, and the rest into three separate documents.
PDF4me's Split PDF tool can exactly do the same for you. Its various configurations available in the feature can help you split your PDF file in any way would want. You can even split the documents by recognizing text inside barcodes contained in the document if any. The Split tool is simple to use and fast. The best part - you can try it for free online.
How to Split PDF Online?
Separating PDF pages using PDF4me can be done in different ways. Let's begin by launching the Split PDF tool from the PDF4me tools page.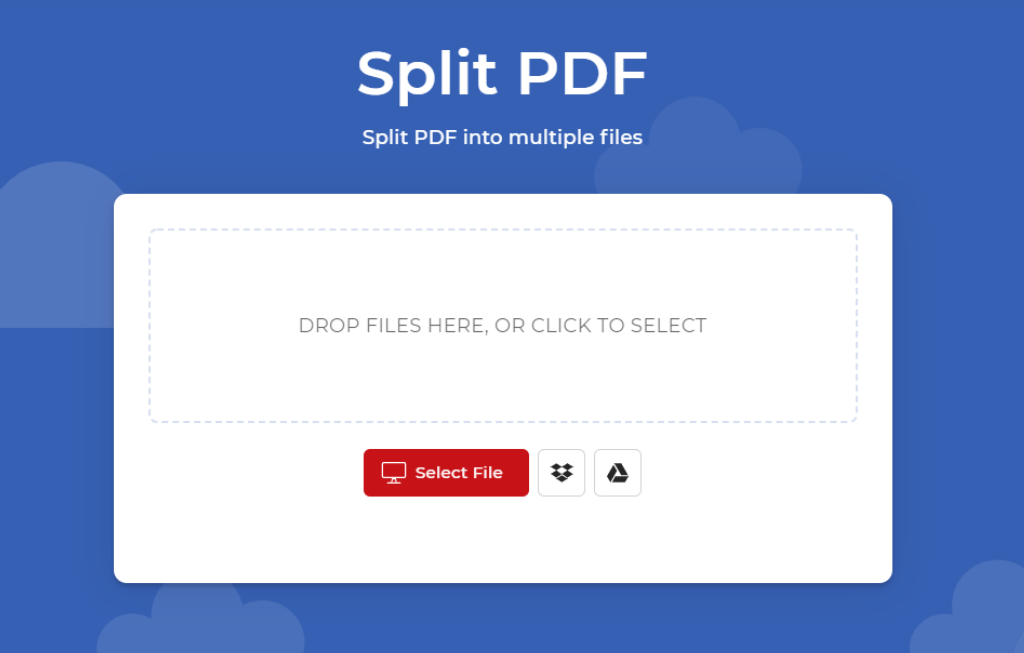 Upload or drag & drop your PDF file.
Choose the configuration by which you want to split your file.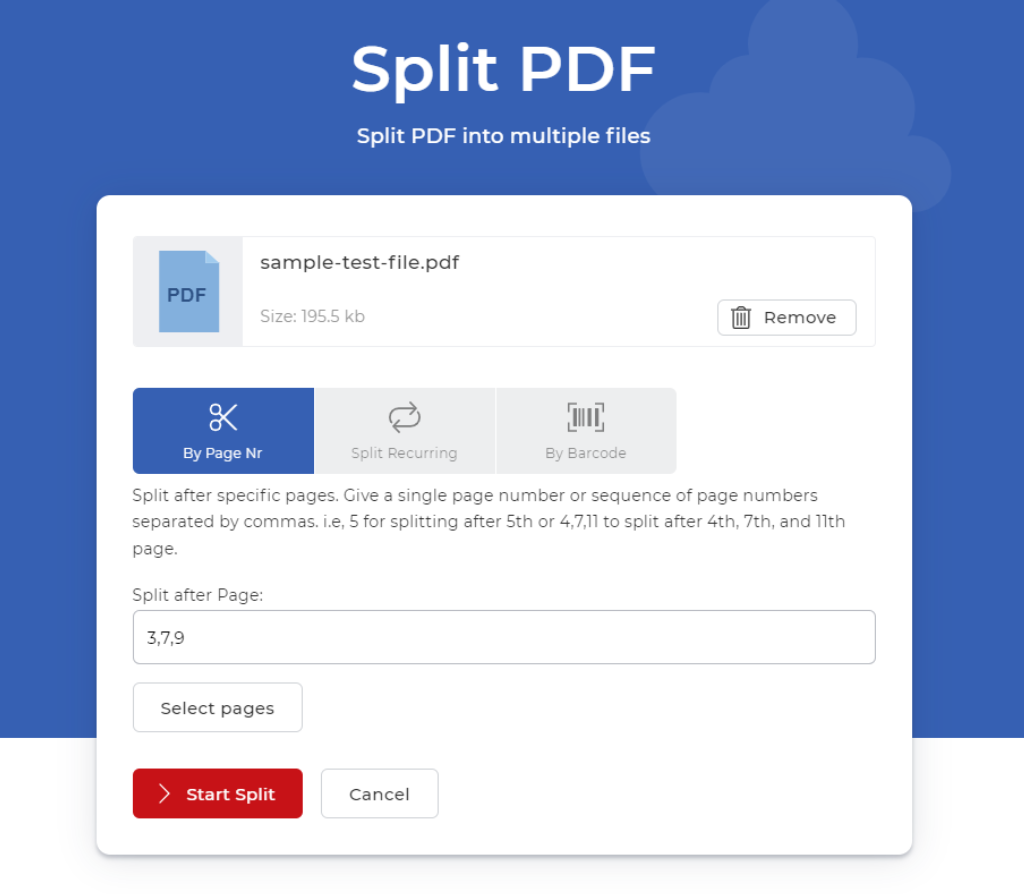 By default, the By Page Nr will be chosen - In this case please provide after which page PDF should be split.
The second option is Split Recurring - In this case, the pages will be split into batches based on the number of pages specified. E.g, give 2 to split PDF after every 2 pages i.e. 2nd, 4th, 6th page, etc.
You can also choose the Select pages option to visually preview the pages and select them. The PDF will be split after each page selected.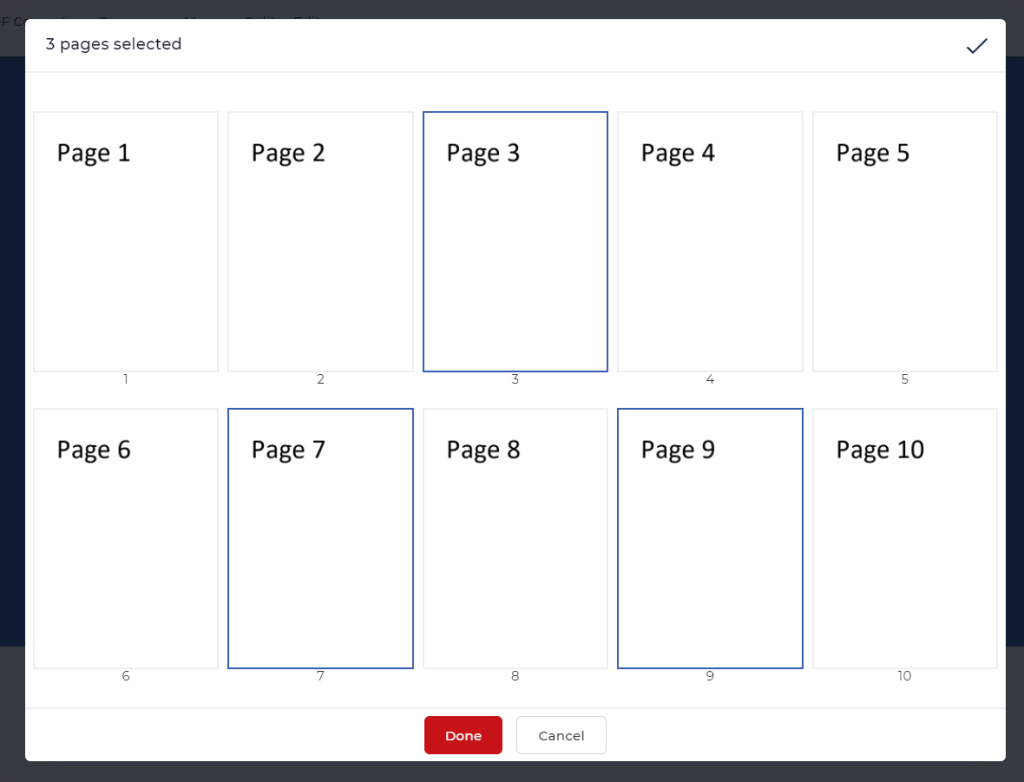 The third option is Split by Barcode - This feature provides you multiple options to filter the barcode text - starts with, ends with, contains, and equal to. Provide the text input along with this filter to recognize the barcode with specific text.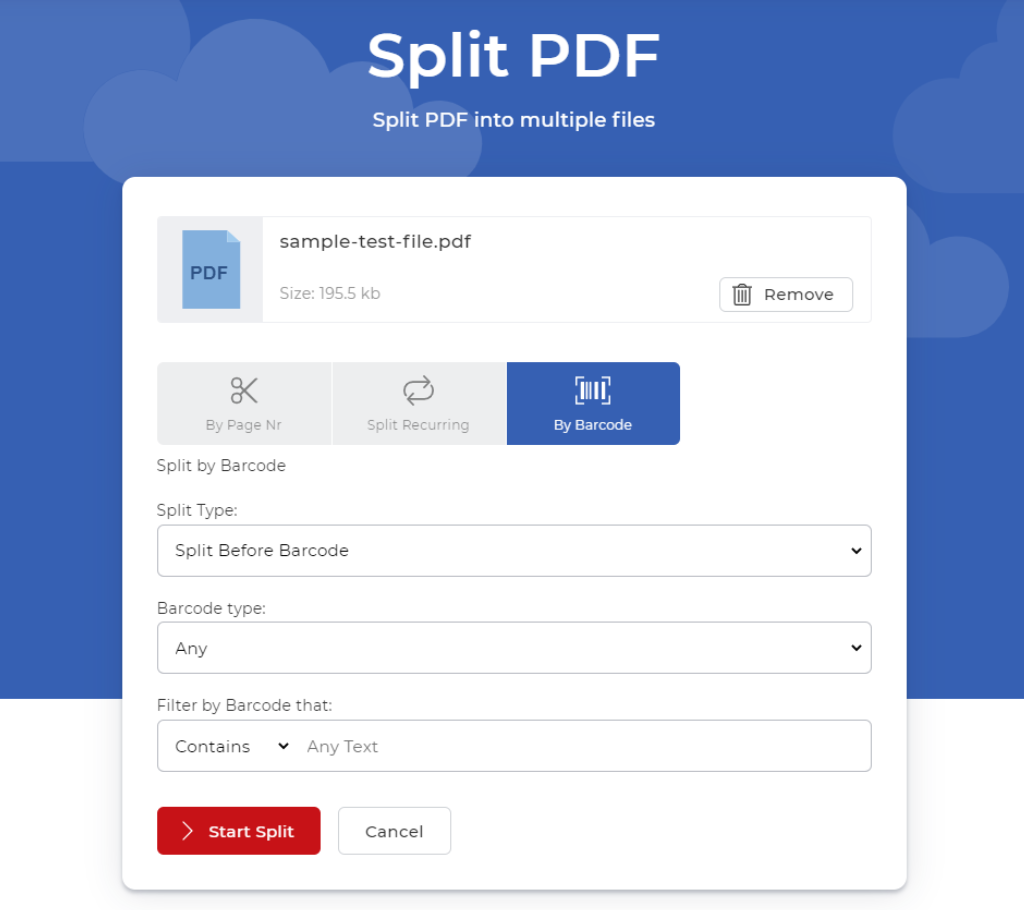 Once your configurations are complete, Just click on Start split. Once the process is completed you can preview and download the split documents.
Get a PDF4me Pro Subscription and Split as many PDFs as required without limits. Also, use all the tools in the PDF4me Suite unlimited. Moreover, take advantage of the PDF4me document automation as well.