By Varun Satish | Convert to PDF
Scan business cards with mobile and save as PDF
Get benefited by increasing sales power with regular follow-up using business card contacts and leads is one of the strategical marketing even if it is getting outdated in today's digital world. PDF4me Scan & Automation app can provide you with quick tools to digitalize all your business cards in a matter of minutes.
There are a large number of small business people still using business cards for their marketing as a primary tool and that even helps them to keep their business strong and popular by handing over a piece of paper that contains the details of their business's point of contact. So anyone who requires their service would quickly pick up the card and call for their assistance.
Since Business cards are still essential for maintaining good marketing leads, we all know certainly how easy it is to miss them during our rush time. It could happen rarely but, not having one at the time of need might delay your process of converting a possible lead to a potential customer or it can totally sabotage the situation in the opposite way.
So, what we could do to overcome this kind of mistake that happens is more important to know. Why shouldn't our smartphones take care of this essential service for us? Get PDF4me Scan and Automate app from Google Play Store for Android or Apple App Store for iOS. This app will help you to scan a business card and convert it to a searchable PDF, later you can select the text from the PDF and save it to your marketing tool or save it as contacts like Google contacts.
Download your free version of PDF4me Scan & Automation Mobile App now!
How to scan a business card with the PDF4me app?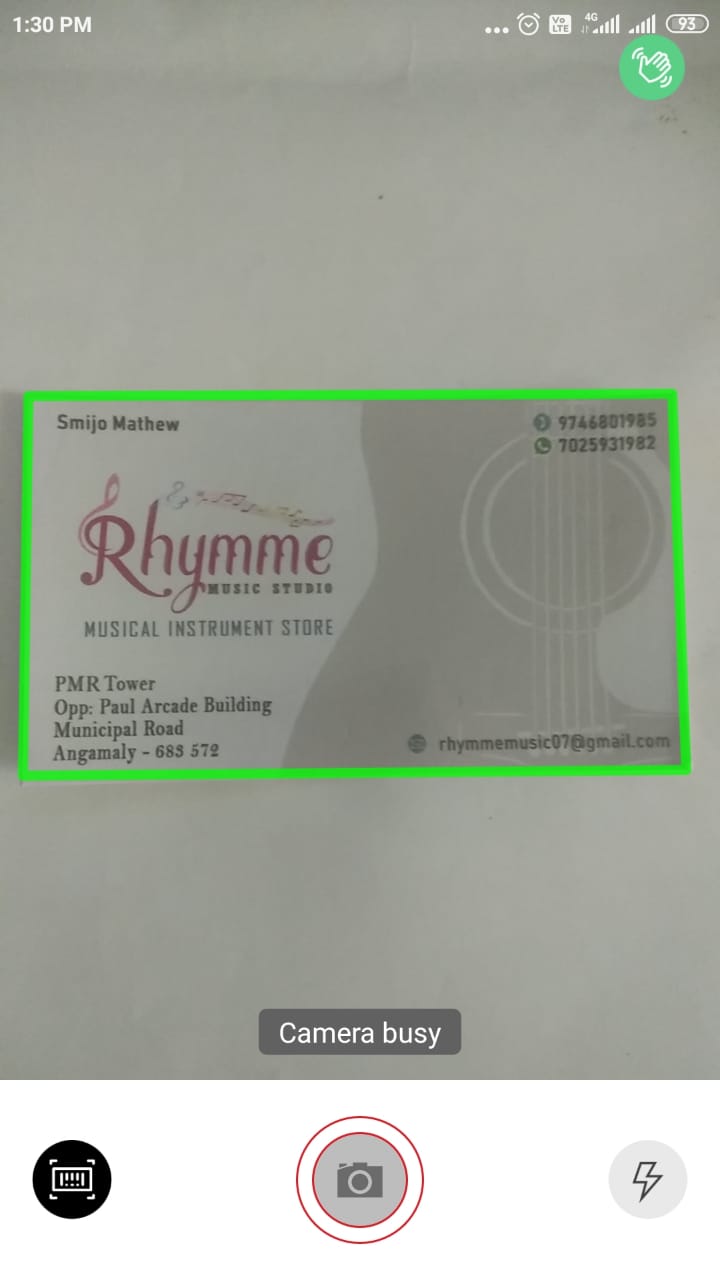 To scan a business card:
Tap on the camera icon from your PDF4me scan app.

Position the camera over the business card so that the edges of the business card persist in a focused view. The camera automatically detects, focuses, and captures the business card precisely.

Once the business card is captured, the PDF4me app prompts with edit options which including crop, color scheme with pre-sets, and rotate options. Apply the options you wish to do before saving them to your app folder.

Save the scanned business card image in the desired folder location.
For ensuring the best OCR output, there are some points to focus on as every business card has different orientations and graphical representations in various color schemes. To capture the business card with more precision and clarity these are some tips to follow.
PDF4me Scan App is now available on iPhone, iPad, and Android devices. By default, the device flashlight will be ON, but according to the circumstance, you can either turn it off to avoid reflections.
When the camera is ON, the automatic capture feature works best when business cards are placed on a contrasting background. Place light cards on dark backgrounds and dark cards on light backgrounds. This is particularly essential when using older devices with lower resolution cameras.
For better results during OCR treatment, capture images with more clarity, even background light can make scanning poor. For glossy business cards, tilt the phone at an angle to avoid glare from the flash.
OCR for converting Scanned business card to selectable PDF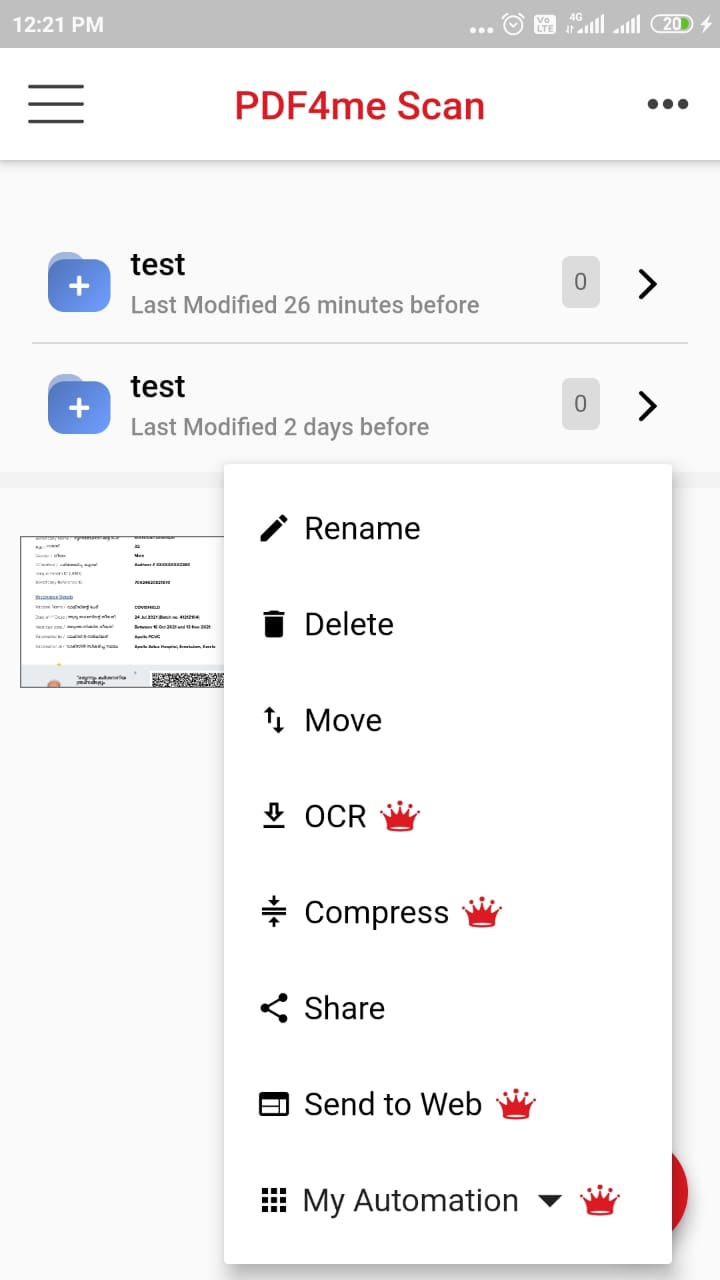 Once the scanned business card is ready, tap on the three dots next to the image thumbnail that opens up with possible PDF4me actions. Tap on OCR, in few seconds your scanned image will be converted to a text copiable PDF file.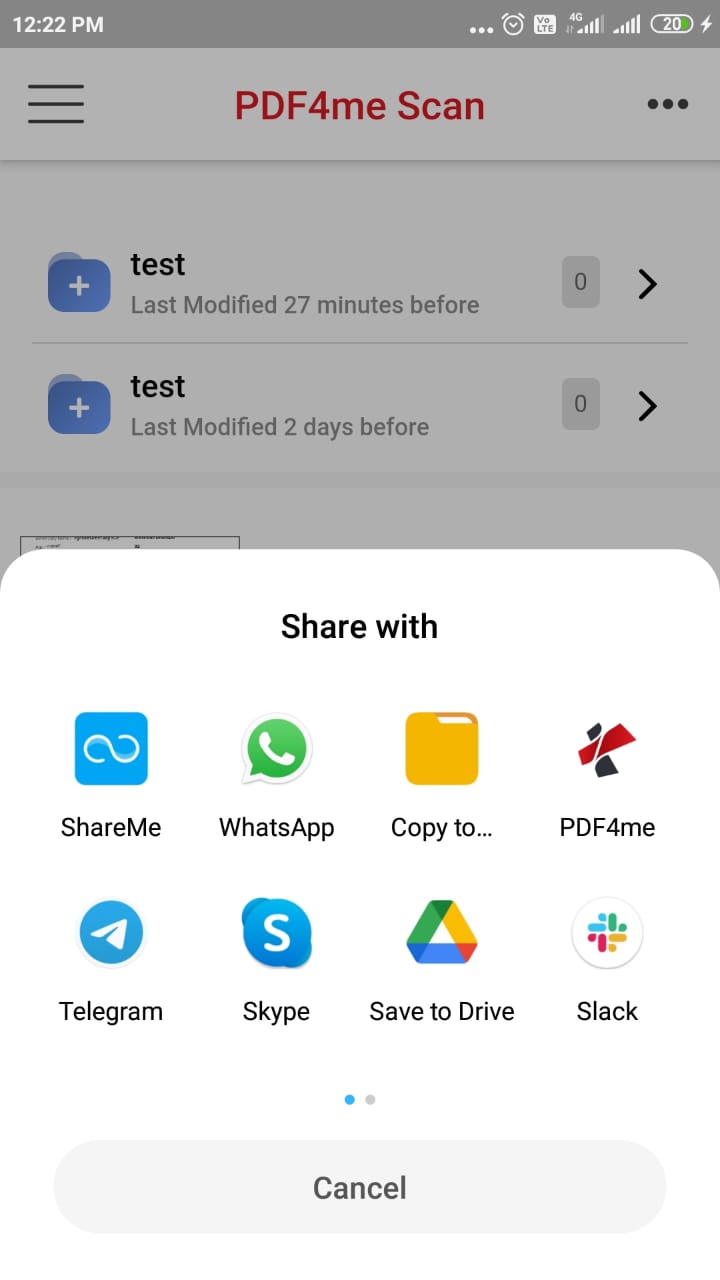 Then tap on the options icon again to share with external apps like Gmail, Save to Cloud storage, and many more as per your need.