By Aravindan Dhanapal | Automation
Scan confidential documents securely using your Mobile
Every one of us in this digital world must have to deal with personal and professional documents for various purposes and it might need to be accessible anytime, no matter where you are. Digital transformation's impact on lives led us to keep all our documents scanned and store them in secure storage which can be accessed from anywhere in this faster-moving globe.
It might be your university mark sheets, certificates, passport, driving license, mortgage documents, medical records, or any other sensitive paperwork you need to preserve and store in secure storage. PDF4me is emerging as the leader in secure document processing and automating to make millions of lives easier by providing industry-standard features at an affordable cost.
How does PDF4me ease scan, Convert it to PDF, and secure your sensitive documents?
To scan your documents fortunately you don't need any scanner like a hardware machine, your mobile phone is more than enough. PDF4me apps exist in both the Android play store and Apple App Store to accomplish all your document-related day-to-day essentials. All you need to do is just download and install PDF4me Scan & Automation app from your play store.
It is a very simple and user-friendly app to complete your scanning requirements more securely and faster. Using the PDF4me app you can easily scan any documents and save them in the desired folder within the app. After saving your document still, PDF4me provides various features to convert it to PDF, compress it, or share with other apps, etc. In this article, we will explain detail how to scan a document and convert it to PDF, finally store it in your own Google Drive storage.
PDF4me Scan & Automation App
PDF4me's Mobile App comes with a free document scanning feature to spark off a unique way of automating a document flow. The app comes at your aid, anytime, anywhere, when you need to process a document and complete a workflow for urgent needs.
You may be wanting to use your documents such as passport, visiting cards, books, receipts, bills, credit cards, or more as an example for an immediate requirement. The app helps you to quickly and smartly complete an entire document processing workflow, using tools like PDF converters or features like OCR, compression, merging, etc.
Key features
Scan a single page or multi-page documents effortlessly with precision

Auto-crop removes unnecessary areas from the scanned document

Rotate pages and select an appropriate color schema

File and Folder Management to organize and keeping track of scanned & processed documents.

Share documents with WhatsApp, Email, other messengers

OCR to get high-quality text recognition built into the PDF

Compress file size to reduce file transfer

Integration to PDF4me-Web features for further automation of your daily tasks
PDF4me is actively working to bring some of the most essential features to this App during every version release. Also, PDF4me takes care of the cloud security at the most important while scanning any documents that could be more sensitive to any personals.
Scan Documents
This PDF4me scan app turns your device into a portable scanner that recognizes documents automatically once the camera is turned on from the app. There is a green box on the first image that shows how it could precisely detect the document corners and capture only the focused area. Once the scan is done then the App shows edit options like crop, rotate, and adjust with default color pre-sets to make the scanned document more legible as much needed.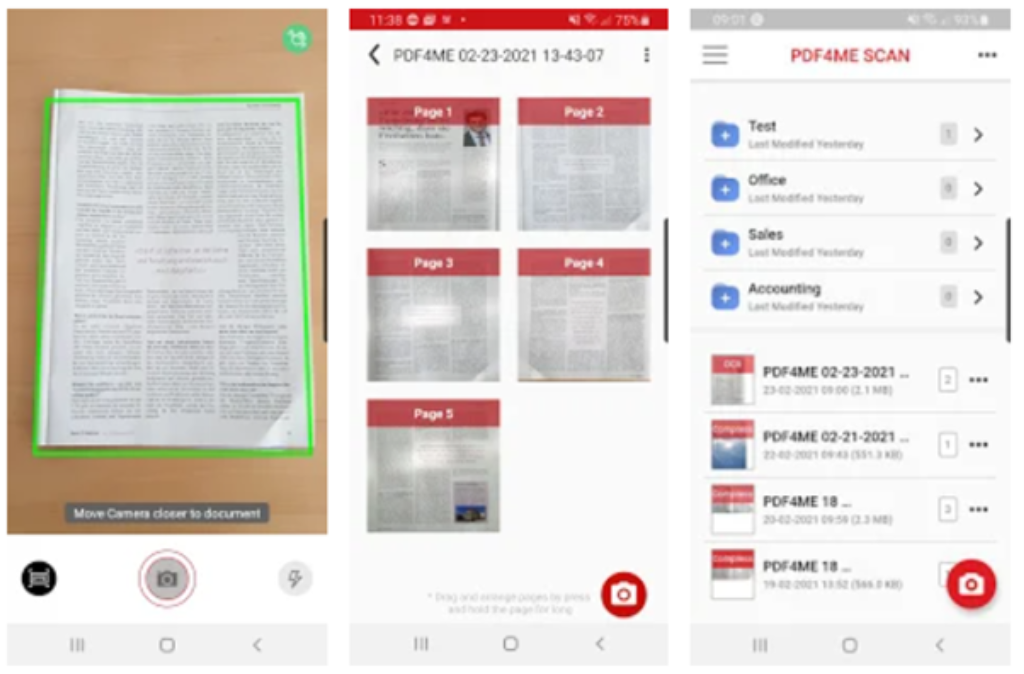 Once the edit is done over the scanned document then you can save it to any folder and rename it as you wish to do. When you scan multiple pages of the same document then you can rename it with the page number in a folder. Later you can use the Merge feature in the app to merge all pages as a single PDF file.
Organize Documents
The scanned documents can be saved in different folder structures as you wish. PDF4me app allows to create folders and maintain documents within the app similar to the device's file system. It allows you to select all documents or multiple documents at a time and gives you options to move from one folder to another folder. You can also delete files by selecting multiple files together. In addition to this, you can see more options to share your documents to other apps like Gmail, Google Drive, WhatsApp, or file share within the App, etc.
More Features
This app also contains basic PDF4me features like Convert to PDF, Compress, Merge, and OCR. The OCR is used to convert your scanned images as readable text-based PDF files on the go. You can select multiple scanned documents together and apply any action that completes its job seamlessly. PDF4me is also adding more actions in the near future app release versions.
How to Share converted files to Google Drive?
Not only to Google Drive, but you can also share your documents to another file-sharing app installed on your smartphone from PDF4me Scan App.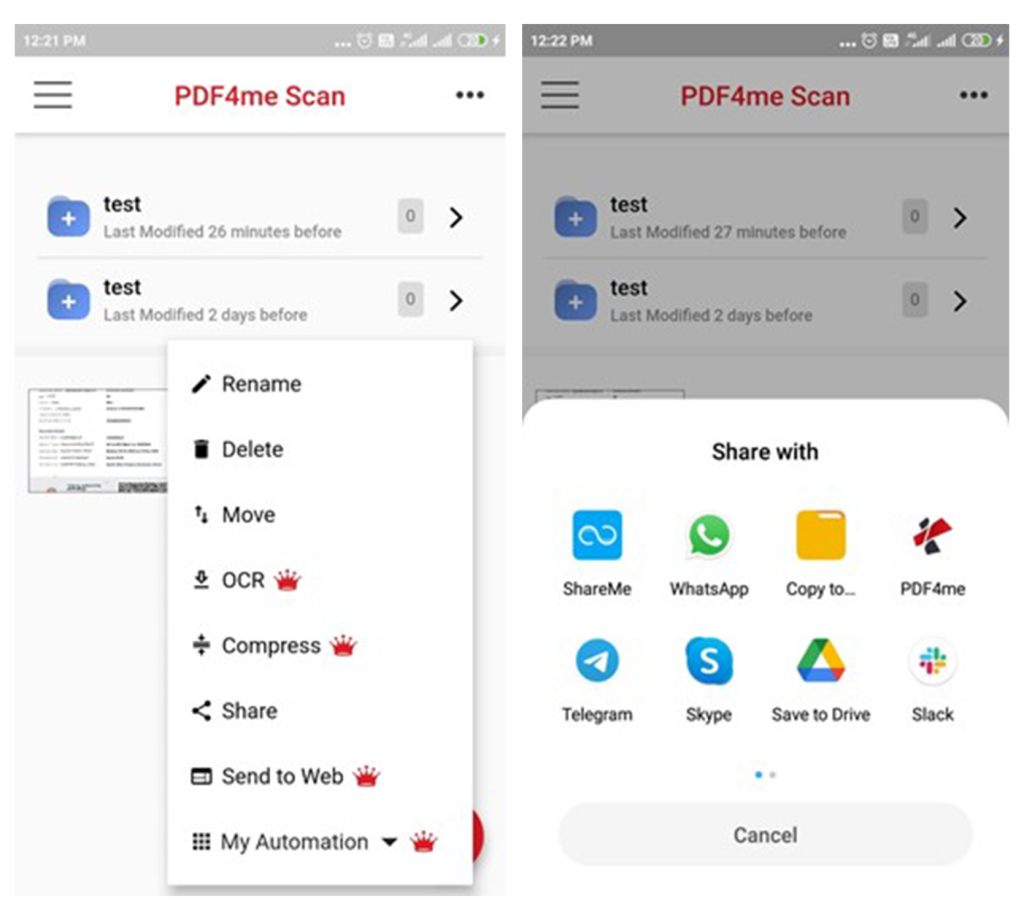 Every document has an options menu that appears when you click on three dots available right side of each document title. The popup window shows all options available for the scanned document. There you can see an option Share that allows you to share the selected document to other apps or file systems. Click on Share then select Save to Drive for saving your scanned document securely.
Similar to Save to Drive, you can slide and choose any apps that you already installed on your smartphone which can access files that will be available to use from the PDF4me scan app. The OCR, Compress, and other PDF4me actions happen securely over cloud infrastructure, and documents are not stored anywhere in our cloud storage. The document used for conversions will be deleted automatically in a regular interval as part of our data retention policy.
To sum up
PDF4me Scan & Automate app makes any content scannable and reusable in just simple touch. Our high-quality optical character recognition (OCR) lets you create readable high-quality PDF documents. It has more options to share your scanned documents to other apps like Google Drive, Gmail, etc.