By Varun Satish | Addon Features
PDF4me PDF Browser Extension for Google Chrome
We come across a lot of documents and PDFs on a daily basis that needs to be processed in one way or another. Sometimes we want to convert PDF documents or reduce their size, add a barcode to them or add a password, etc. PDF4me Browser Extension allows doing all these on a PDF opened in browser. All you need to do is add this extension to your Chrome browser, open a PDF file in browser and you can see an icon on the left side of the window.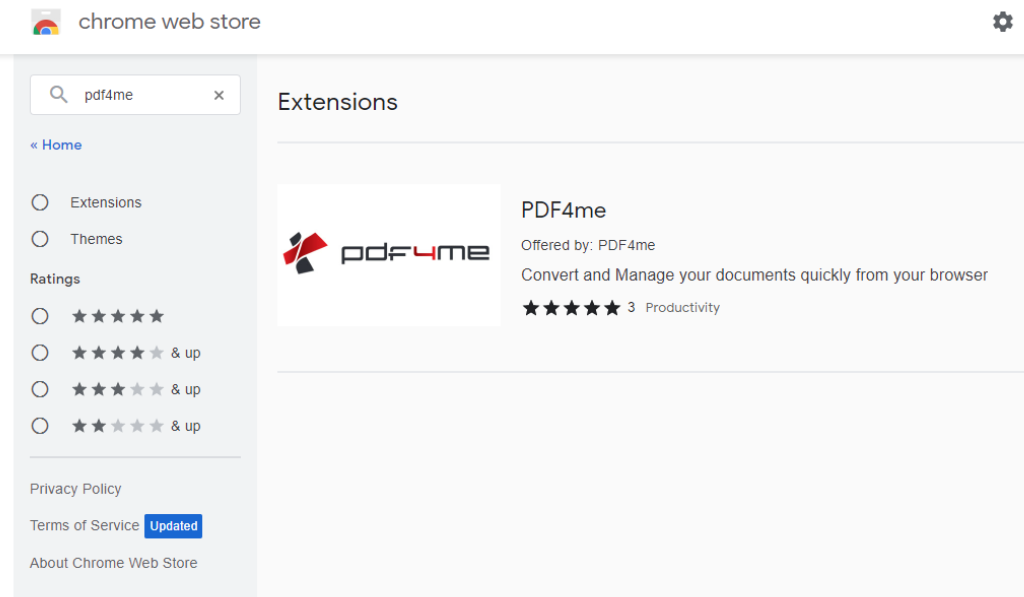 How to Install the PDF Extension to Chrome browser?
Installing the extension to your browser is a quick and easy job -
Search for PDF4me
When you find the PDF4me extension select Add to Chrome
Approve and Add the extension to your browser. The PDF4me icon should show up in the top bar of the browser.

Once installed, go to the Extension settings in your browser. Select PDF4me Extension details and enable the Allow access to file URLs setting. By doing so the extension can detect PDF files when they are loaded in the browser, even if it's a local file, and enable you to process them with PDF4me tools.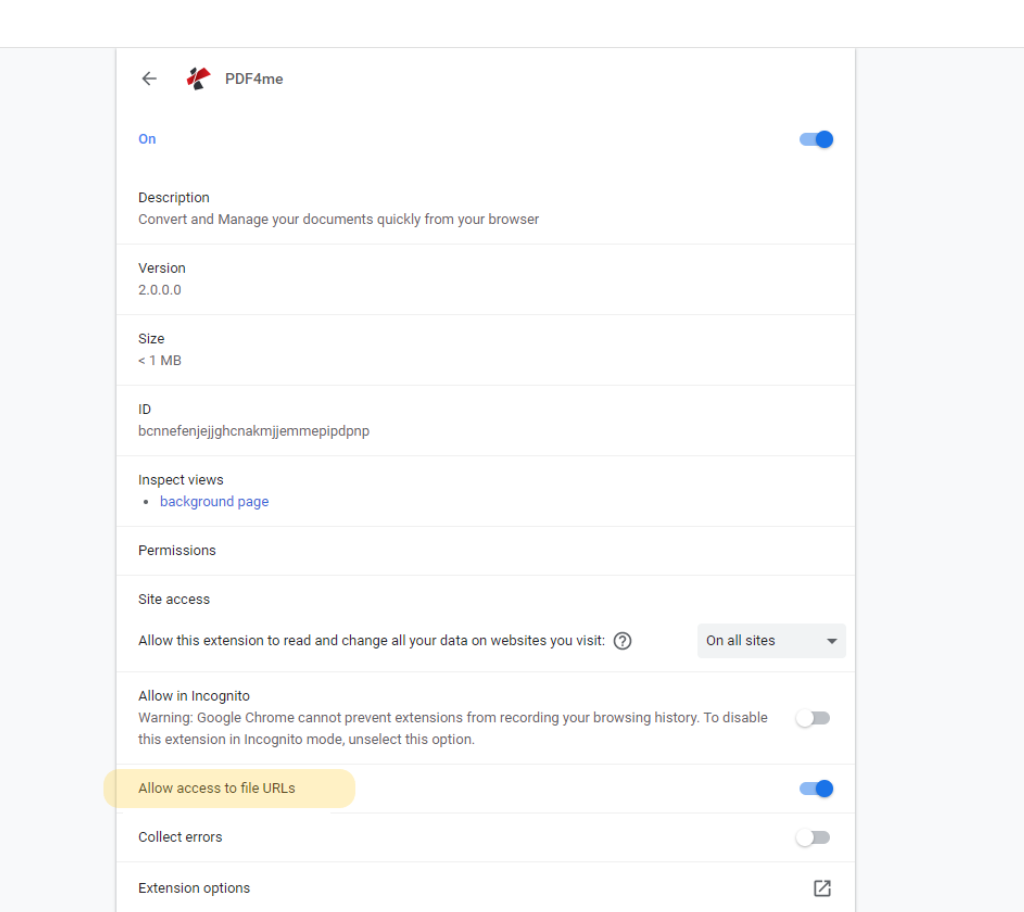 This extension is only available for the PDF file opened in the browser. It does not respond to text files, HTML, JSON, or any other files. Please make sure that a proper PDF file is opened in the browser for processing. Though the feature processing is done with some predefined settings, we will provide custom changes for this in the future. This extension has been published in the Chrome web store.
How does the PDF4me Extension work?
After installing the extension every time you open a PDF in your Chrome browser, you will see an icon on the left side of the browser window. You can even work with local files in your system by opening them in your Chrome Browser.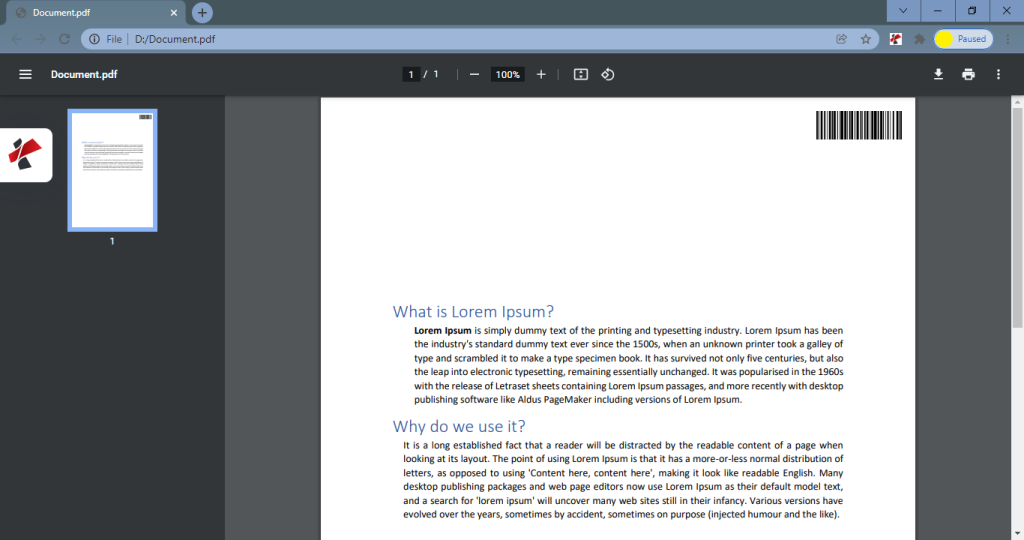 Clicking on the icon will provide you with a list of possible features you can use to edit and process your PDF file. At the moment, we have provided PDF to Word, PDF to Excel, PDF to Powerpoint, PDF to Image, Compress PDF, Optimize for Web, and Repair PDF. Choose any one of the tools and they will be uploaded to the PDF4me Web for further processing.
We will be adding more features to the extensions to provide the best control over your PDF files.
You can also directly process PDF files from your Gmail attachments with the browser extension. All you need is to enable the Gmail Integration in the extension settings.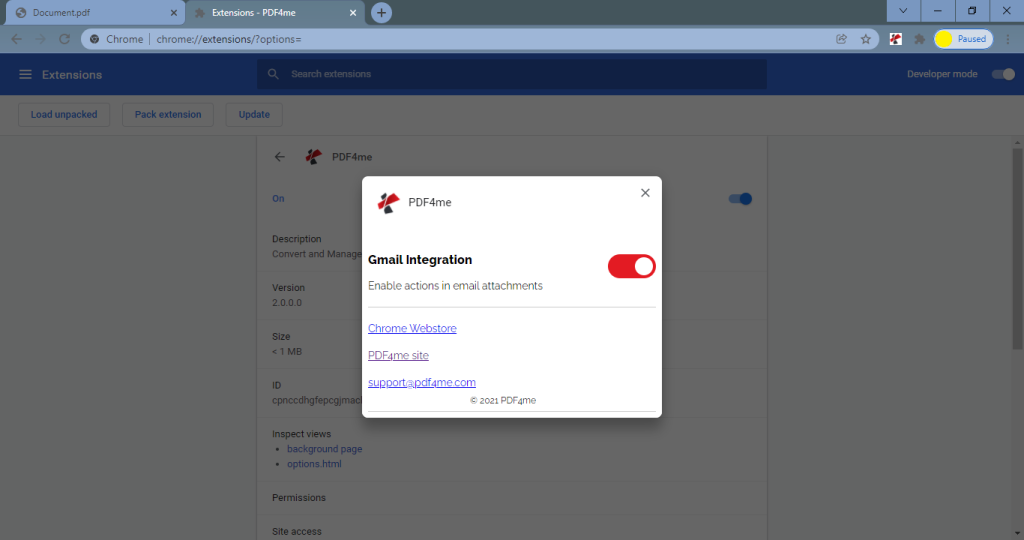 Furthermore, the PDF4me extension acts as a shortcut to all our premium tools and automation. Just click on the PDF4me icon on the top bar of your browser to quickly access any PDF4me feature.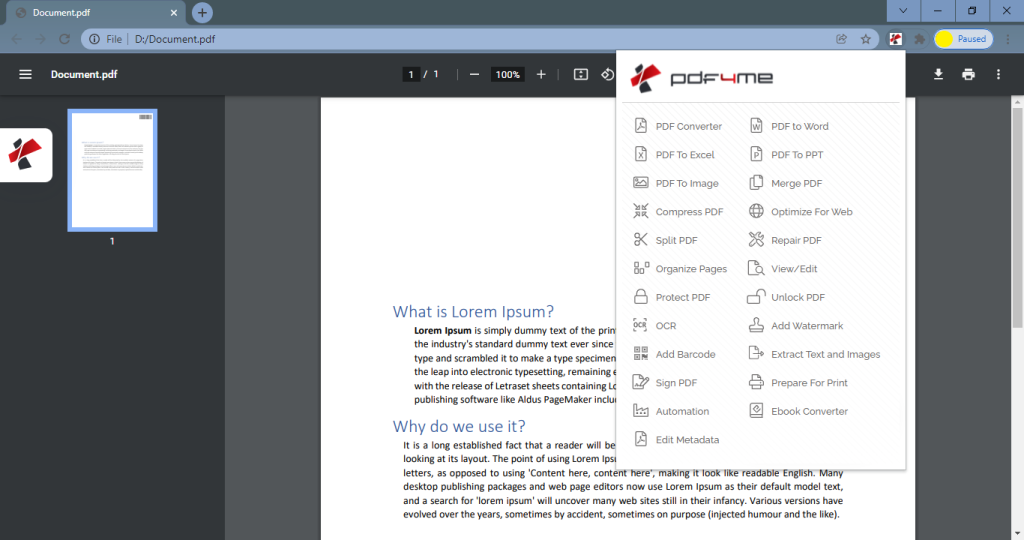 Developed to integrate with any latest versions of Google Chrome, the extension will help you control your PDF files with ease. Save a lot of time and effort you put into your document jobs with this easy yet powerful PDF4me Chrome Extension.