By Vishnu Subramoniam | Automation
Document Automation using no-code platforms - An overview
What is Document Automation?
It is the process of creating workflows that are designed to generate and manage digital documents. These include connecting various apps and data to create, transform or share documents between them. Document Automation is gaining high popularity along with no-code platforms making it the most sought document technology in the digital era.
Document Automation is now increasingly used within certain industries and businesses to assemble legal documents, contracts, invoices, receipts, letters, and more. In conjunction with no-code systems like Power Automate, Zapier, Appy Pie, and Make (Make), this technology can be used to generate documents dynamically, automate file sharing, and organize documents.
PDF4me Automation Integrations
PDF4me has its integrations in the most popular no-code platforms. Powered with a suite of robust actions, the PDF4me integrations enable you to automate almost all of your document processes with little to no coding at all.
How to Integrate PDF4me to no-code Platforms?
You will require PDF4me Automation Calls to run your Integrations in the above no-code platforms. The access to these API calls happens over a Key or Token.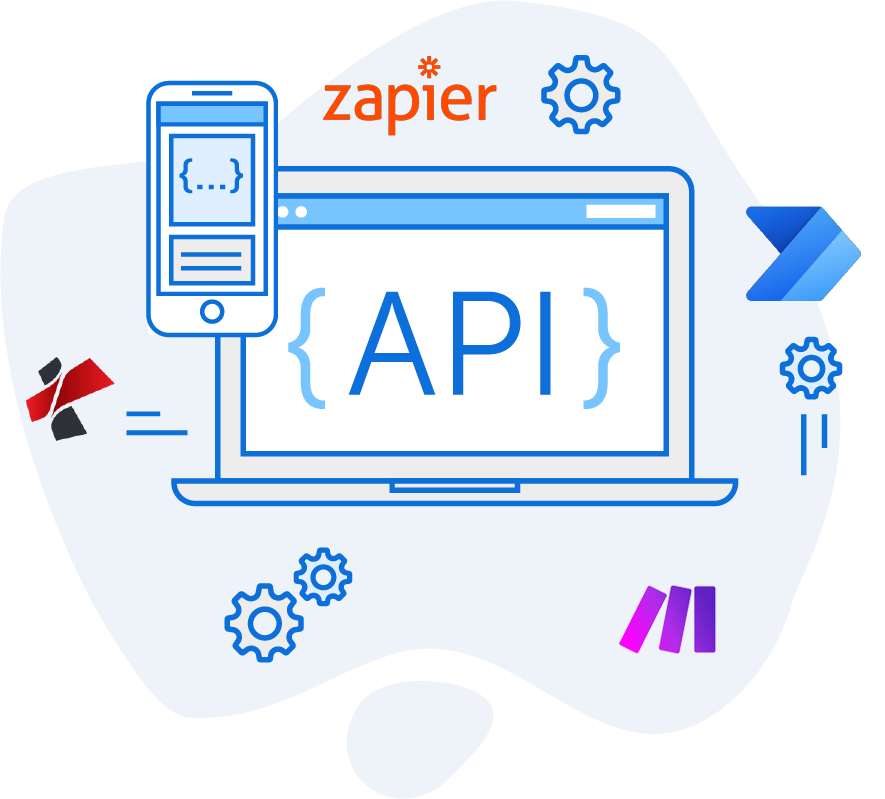 Where to find the API Key?
PDF4me provides API Automation calls through 2 platforms -
PDF4me for Developers - API only Subscriptions
The PDF4me Developer portal provides monthly Subscription plans that provide only API Calls. Subscriptions start from a minimum of 1000 calls and can go up to limits based on your requirement. Start a Subscription in the Developer portal if you just want API calls for Automation Integrations.
You can find your API key in the Subscriptions menu inside Applications.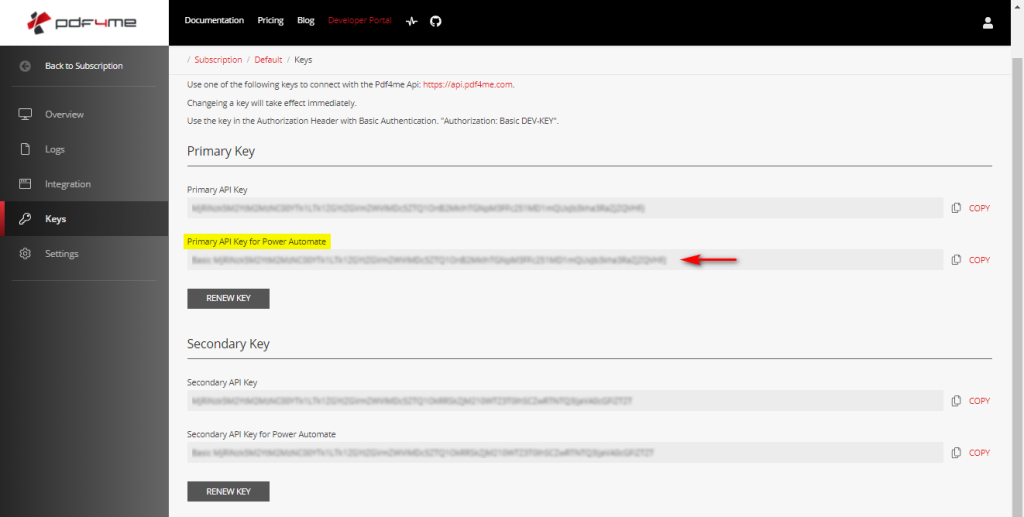 PDF4me for End-users - Online tools and APIs
Get started with PDF4me.com if you want to take advantage of both the PDF4me online tools and also the API calls for your Automations. Moreover, here the API Automation calls come in prepaid packages with no expiry as long as your account is active.
You can find your API Key or Token in your Account Settings.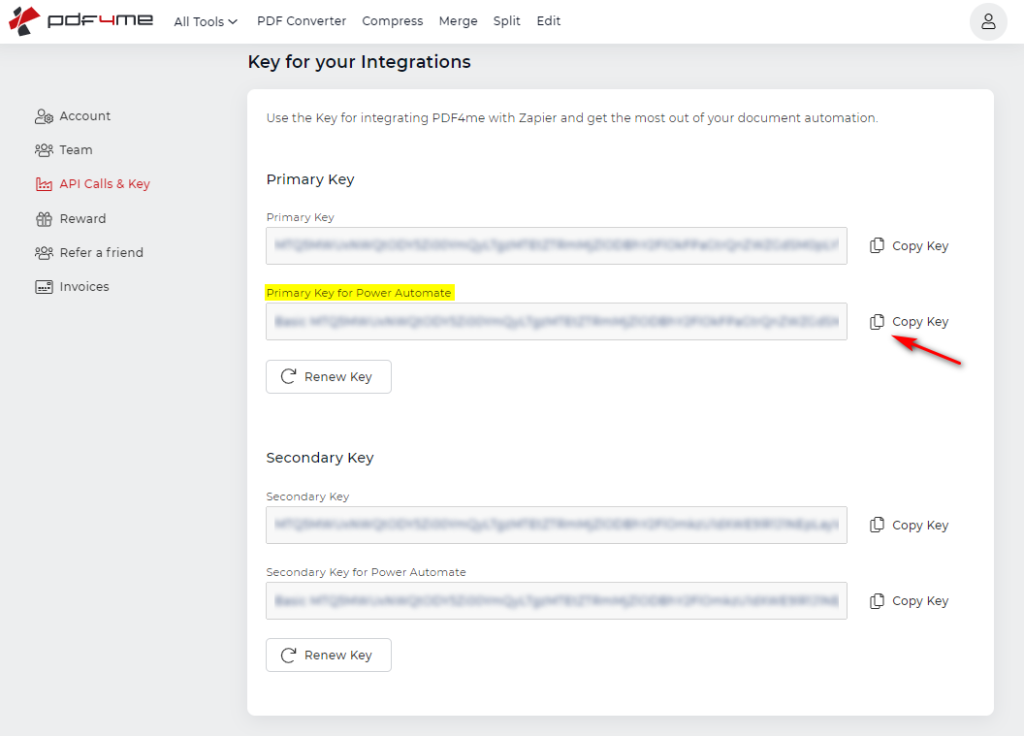 In the Keys or Token section, you will find separate keys for your Power Automate integrations. This is because Power Automate requires a specific prefix along with the Key or Token.
Most popular PDF4me automation actions
Convert to PDF - Convert various document, HTML pages, URLs and image formats to PDF
PDF to various formats - Transforms PDF into various formats like Word, Excel, Powerpoint, eBooks, Images, etc.
Generate Documents - Generate documents by automating the merging of Word, HTML, or PDF templates with dynamic data.
Merge PDF - Merge multiple PDF files into single PDF.
Create PDF/A - Makes your PDF file PDF/A compliant.
PDF OCR - Recognizes text in scanned documents and images and converts them into searchable PDFs.
Add Barcode - Generates and adds barcodes or QR codes to your PDF files
Add Watermark - Create and add text watermarks to PDF files. You can also add image stamps.
Split PDF - Split PDF files using various methods even using Barcodes contained in them.
Extract Pages - Extract specific pages of a PDF file.
Protect/Unlock PDF - Add or remove password from a PDF file.
These are some of the most used and popular actions in PDF4me available across the automation platforms discussed in the article. You will find more actions when you start exploring them.
PDF4me is one of the most competitive and low-cost automation API providers in the document automation industry. Start a subscription with us now, and we assure you will find our service worth your valuable time and money.
Happy Automation!