By Thomas Devasia | Automation
Automate PDF processes with PDF4me Scan & Automate app
Document Workflow Automation in PDF4me is crafted for its customers to transform their routine business process into a well-automated process based on workflow rules where human tasks for various document manipulations are done automatically without any coding knowledge.
Automating your document workflows, especially the processes handled manually by humans has substantial perfections in terms of accountability, accuracy, productivity, efficiency, and finally end-user satisfaction. We as a team always prioritize our customer satisfaction which is a key to the success of any product or service. In this article, we are pretty much happy to introduce the document workflow automation we built with powerful cloud infrastructure that could benefit your various business process.
What is document workflow automation?
As we talk about document workflow automation, what it is really meant? How does it differ from other workflow automation platforms?
There are various workflow automation platforms available in the marketplace for various purposes. We are a visionary of the document processing world and we built our workflow system that could automate all your document-based processes. In other terms, all of our workflow actions, triggers, and controls are somehow connecting with documents. Say for example Send Email is an action for sending an email to someone but still, it can send documents as an attachment that comes from the previously executed actions. For this explicit purpose, we call it document workflow automation.
How to create your first PDF4me document workflow?
As a pro user of PDF4me, anyone can able to create their own workflow to automate all your manual business processes. Navigate to Workflows from the Account settings menu which appears by clicking on the user icon.
Your workflow dashboard is now loaded with essential documentation and creates new workflow options. You can refer to the detailed documentation before proceeding to know the available actions, controls, and sharing options available for your requirement.

Upon clicking on Create Workflow button, a popup appears to create your workflow by getting the workflow name and description. One thing to remember here is that this workflow name will appear in your mobile app to execute this workflow from your mobile phone. Provide the details and click on Create Workflow.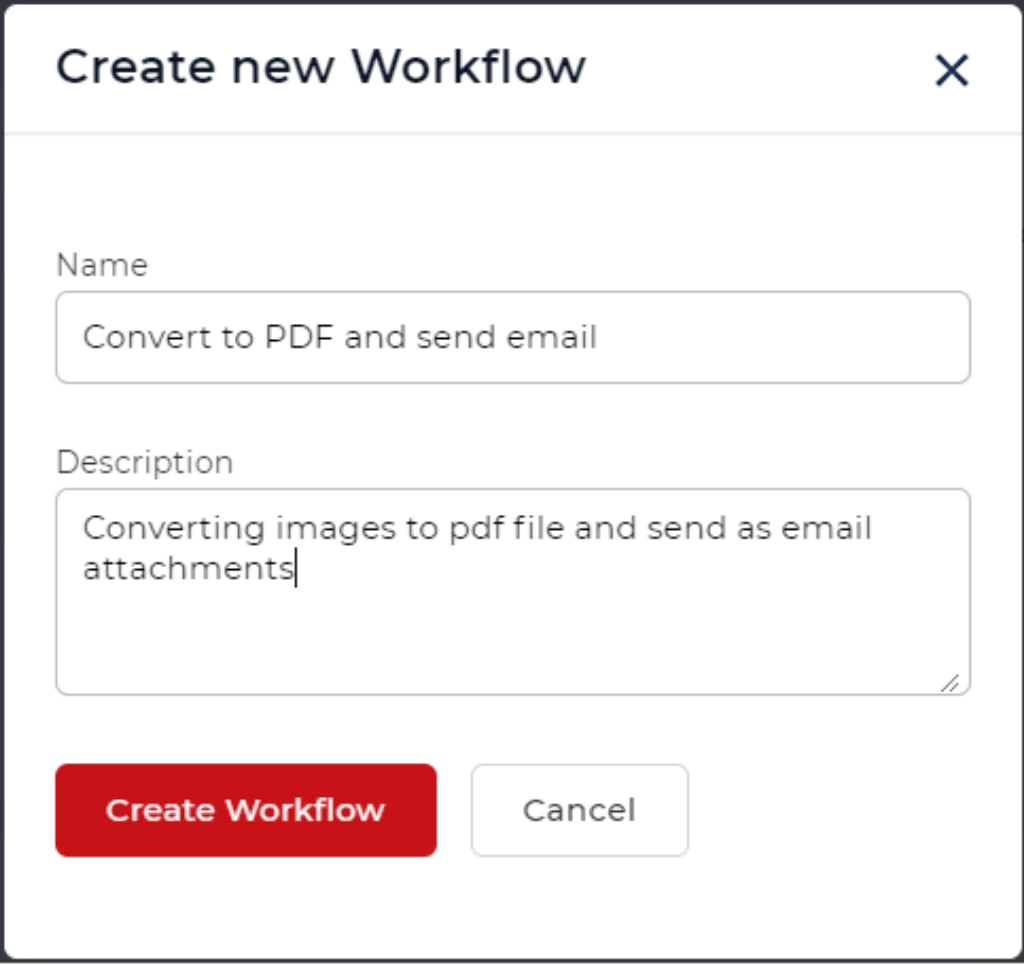 Now you can see your workflow with default start, end actions, and also save as Draft, Save and Publish buttons at the bottom. During workflow creating in order to preserve your changes Save as Draft will be very useful. Once you completed your workflow creation, click on the Save and Publish button that saves your workflow and activate it immediately.
Now is time to add actions and controls that would need to complete our workflow creation. Click on the icon between Start and End, this adds a new step into your workflow with the list of actions and controls available to use. You can also search for the action you wish to add.
Now let us choose to Convert to PDF action from the list.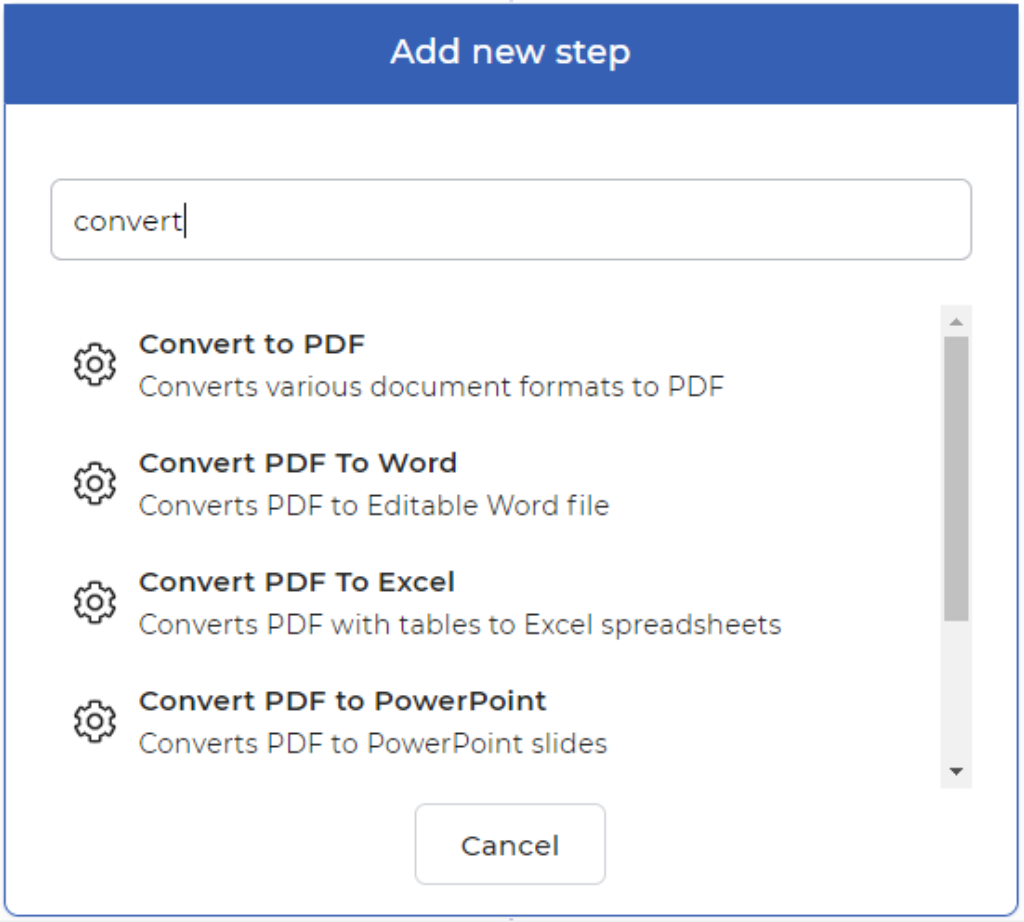 Usually, each action may have some properties as an input that depending on the respective document processing. For example, split by page number has page number as input parameter in addition to the file. For convert to pdf, it has no parameters. Now let's add Send email action as a next step.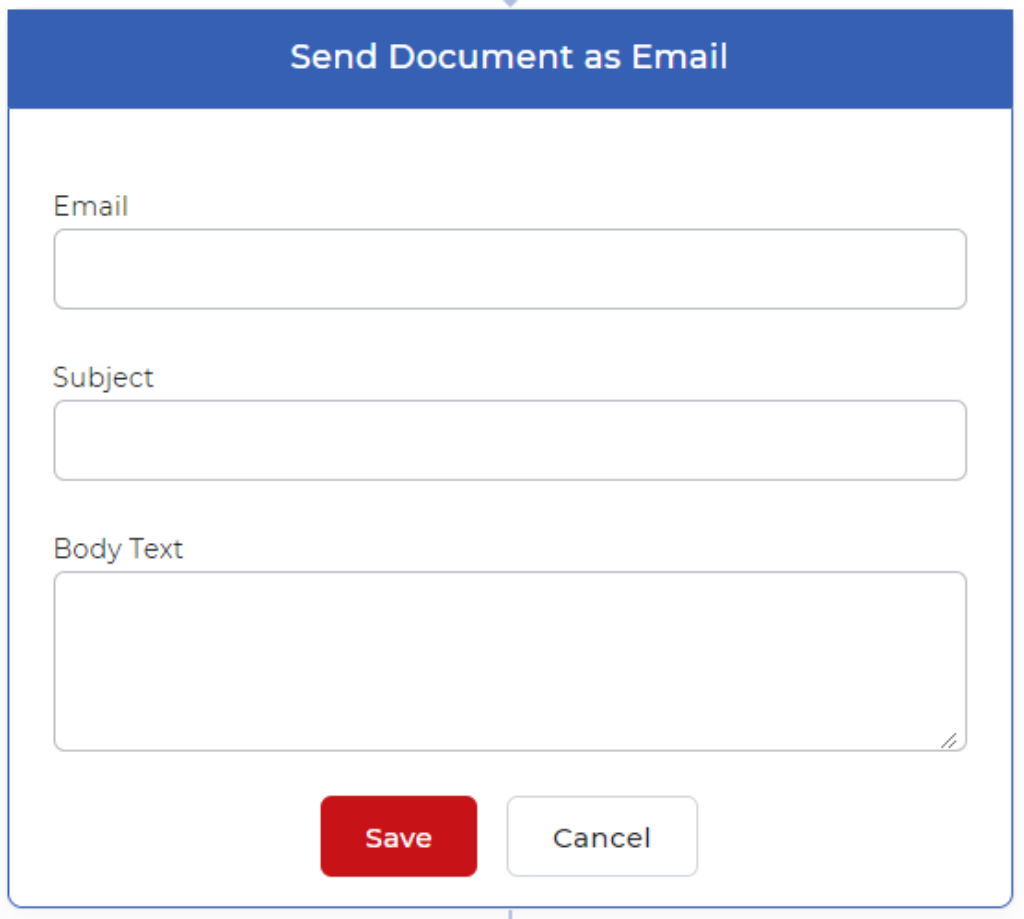 Send Documents as Email has three parameters as email is for to whom is supposed to be sent, Subject is for the email subject line, and Body Text is for the message content. Fill in your essential information as needed and save it.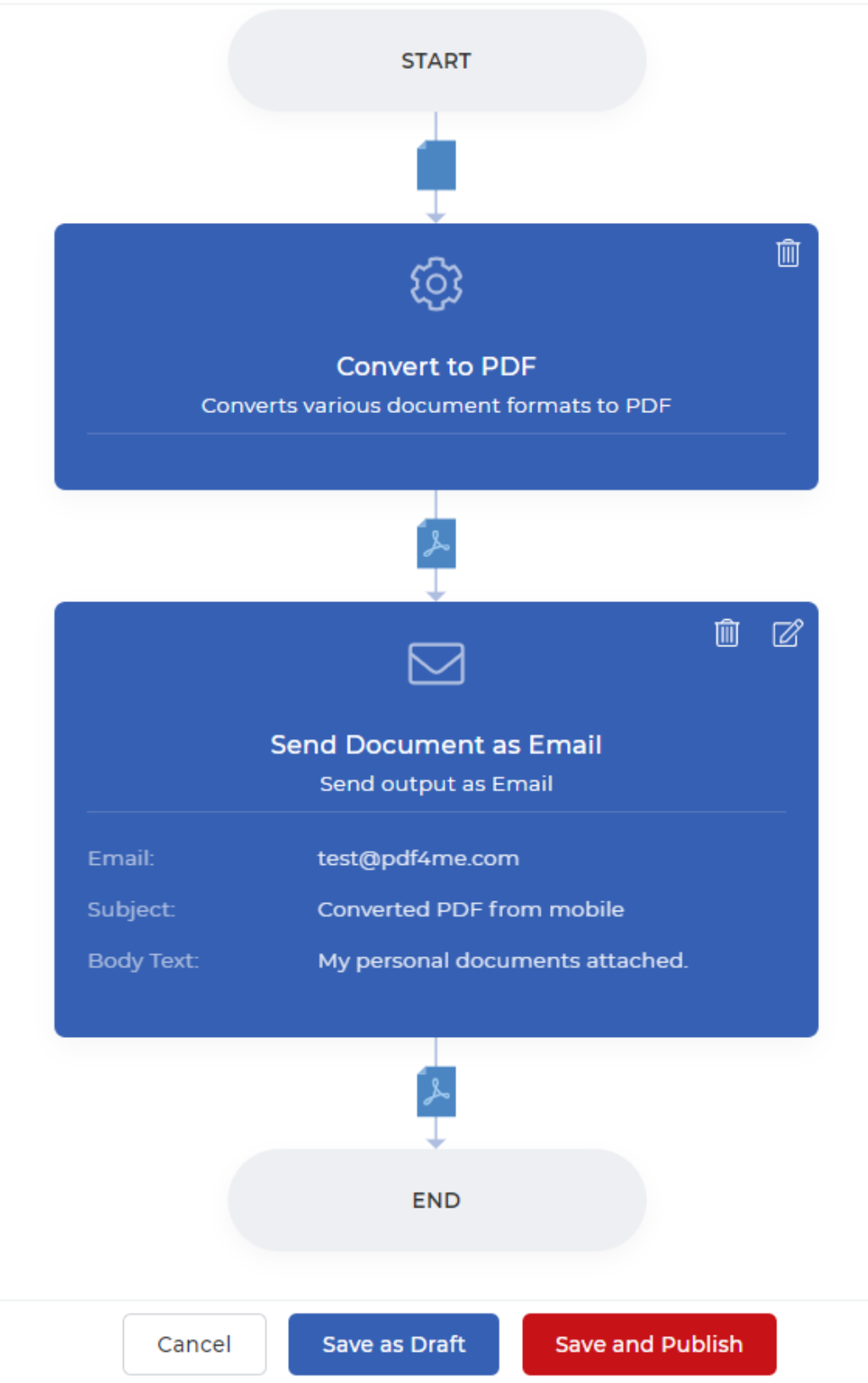 Your final workflow looks like this and is ready to publish for your usage. How fast and easy, isn't it? Once your workflow is published you can use this workflow from your mobile app or you can find it in the PDF4me main menu. Also, you can check the logs in the workflow main window like last run, duration, call cost, etc.
Please note that actions are still accounted as API call costs from your automation eligible call counts. You can check this in your account settings and add more API calls for more usage. Otherwise, according to your Pro plan, you will get some free credits in every billing cycle change.
Trigger workflow from PDF4me Scan & Automate app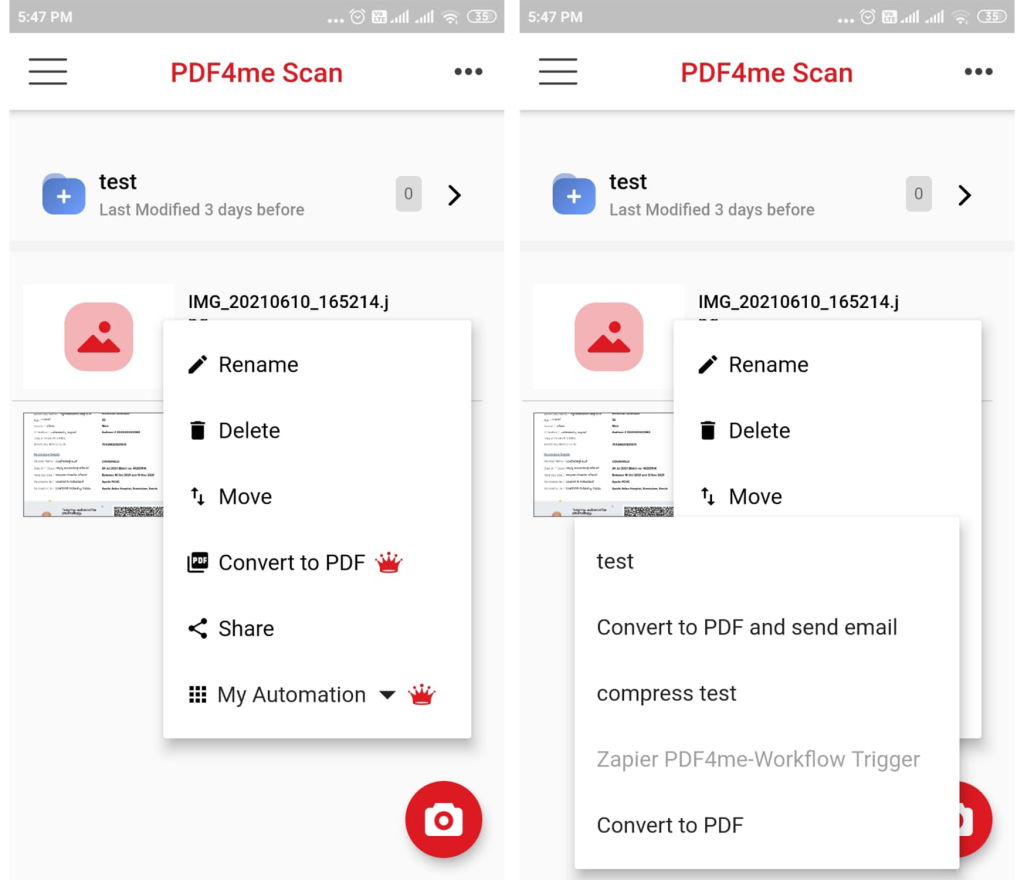 This is one of the most valuable features of the PDF4me document workflow automation process. You can trigger the workflow that you created in the PDF4me portal, from your mobile or tab devices from anywhere and anytime. The first screenshot shows how to navigate to Automation and see the workflow you have created.
The second screenshot shows all of your workflows that you have created in the PDF4me portal and are ready to serve you anytime. By selecting the workflow name, the file you selected will be sent to the workflow system and it does all of your business processes and notify you that workflow is getting started.
To Conclude
Workflow automation provides various benefits compared to manual processes. It reduces manual handling, improved process time, better workload management, reduced manual errors, and many more. PDF4me is a visionary of making document processing is simple, efficient and make it available to everyone. All you need to do is signup with PDF4me then download and install PDF4me Scan & Automation app from your play store.